Chinese students in Thai Higher Education Institutions and the Transformation of Graduate Migrants: Characteristics, Practices, and Transitional Migration
Keywords:
Chinese student mobility, competitiveness in China, Thai's public policy on skill-worker, international students in Thailand, transforming migrant
Abstract
This research article entitled "Chinese students in Thai higher education institutions and the transformation of graduate migrant: Characteristics, practices, and transitional migration" aims to clarify two objectives. Firstly, to analyze the determinants that motivate Chinese students to enroll in Thai higher education institutions and, secondly, to examine the particular characteristics and patterns of status involved in transitioning from student to graduate labor. Mixed research methods from in-depth interviews and questionnaires are employed in gathering and analyzing the finding. Criticizing Human capital theory, Chinese students in Thailand intend to invest in the Thai language to escalate their socioeconomic status. However, the popularity of the Thai language over the Vietnamese and Myanmese languages, which share a higher trading volume with Yunnan and Guangxi, represents the significance of Thai soft power through social media and healthier cultural linkage. Lastly, the length of stay among transforming Chinese workers depends on individual contentment. Applying social field theory, their economic capital mainly motivates short-term migrants. However, the pursuit of social and cultural contentment is the principal motivating factor attracting graduate migrants to reside long-term in Thailand.
Downloads
Download data is not yet available.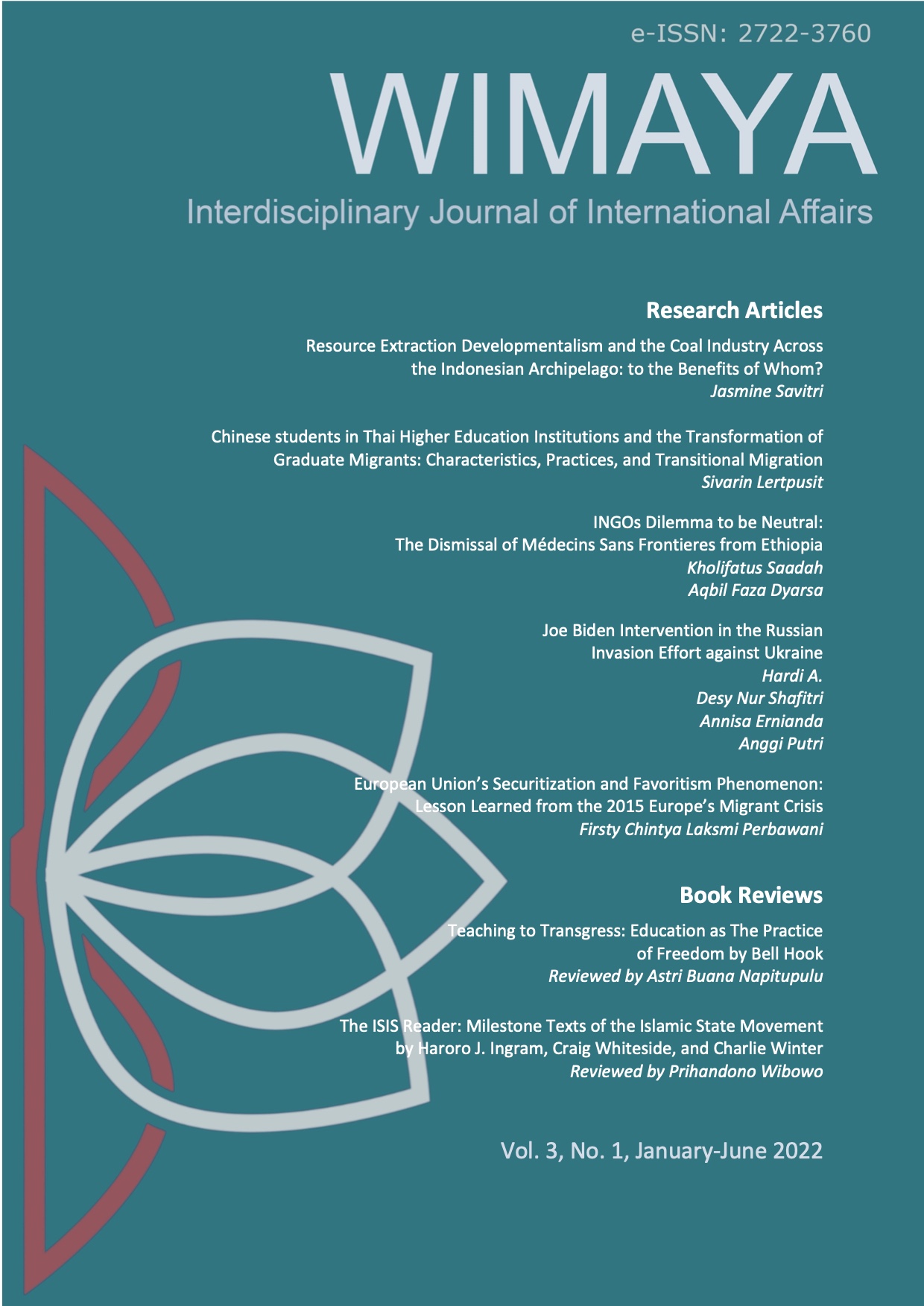 Downloads
How to Cite
Lertpusit, S. (2022). Chinese students in Thai Higher Education Institutions and the Transformation of Graduate Migrants: Characteristics, Practices, and Transitional Migration. WIMAYA, 3(1), 18–26. https://doi.org/10.33005/wimaya.v3i1.63
Section
Research Articles