Constructivist Approach Analysis on the Boycott of the 2022 Beijing Winter Olympic
Keywords:
2022 Winter Olympics, Boycott, Constructivism, China, the United States, Canada, Britain
Abstract
The 2022 Winter Olympics Beijing have drawn a lot of attention since a number of important nations have put a diplomatic boycott on the event. The United States, Britain, and Canada were among the nations that enacted a diplomatic embargo. Using a constructivism theory approach, this research will attempt to give an analytical study of the occurrence of this boycott. Instead of adopting traditional approaches like liberalism and realism, the author believes that this approach offers a fresh viewpoint on this phenomenon. From a constructivist perspective, the nation that imposed a diplomatic boycott on the Beijing 2022 Olympics was regarded as having constructive elements that encourage such behavior. Every nation has its own factors that will shift the way that nations make decisions. The main argument of this paper is that there are three main factors that construct the boycott behavior of these countries. The first is the construction of friend vs foe between the boycotting countries and China as the host
country. Boycott countries that share ideological similarities construct a point of view that China is an enemy to them because of their differences. The second argument is the existence of China's construction as a country that perpetrates human rights violations. This prompted the boycotting countries to protest with the boycott. The third argument is the existence of bilateral problems between countries. Some countries, such as Canada, have bilateral problems with China, which then encourage the construction of boycott behavior that occurs.
Downloads
Download data is not yet available.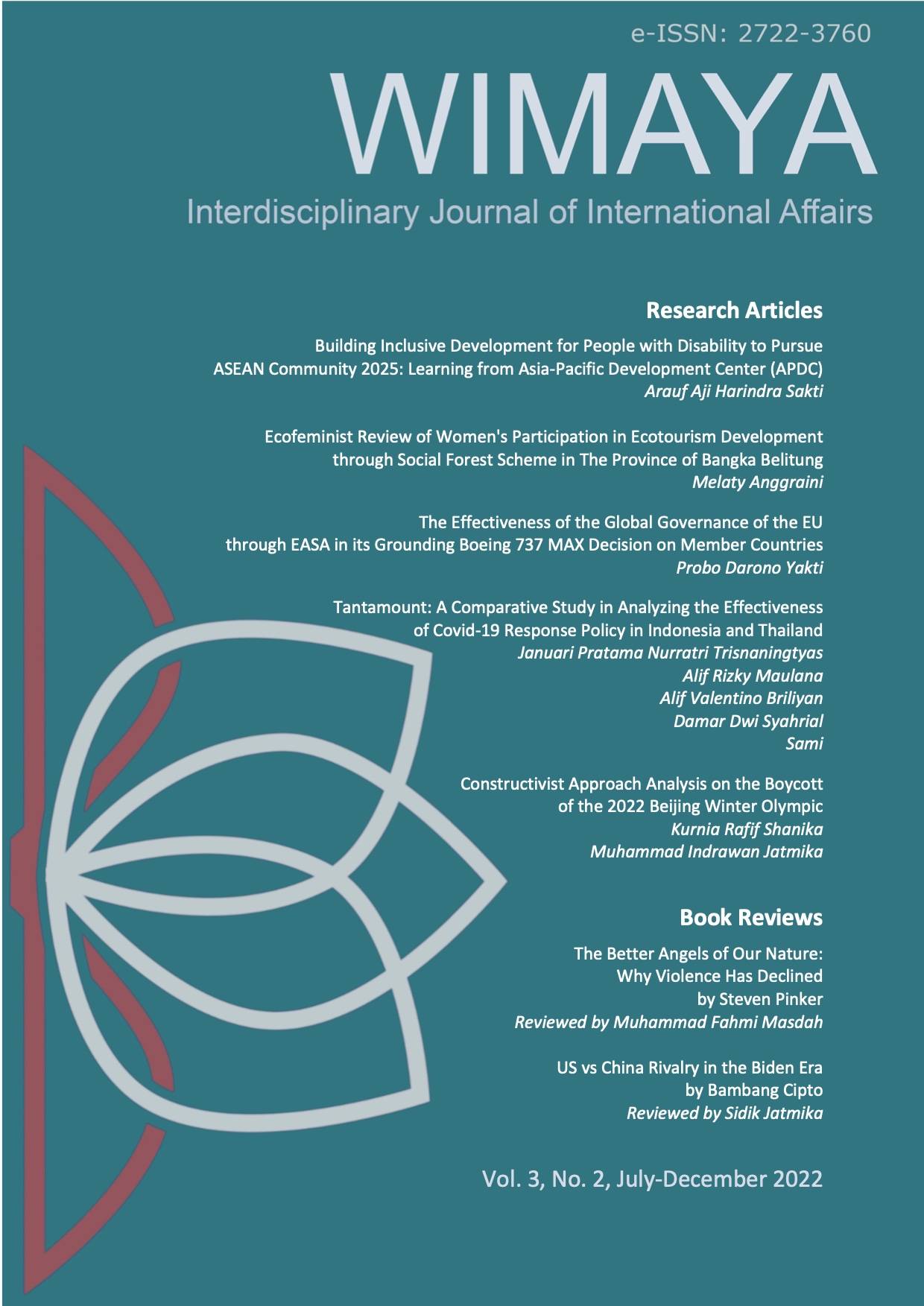 Downloads
How to Cite
Shanika, K. R. ., & Jatmika, M. I. . (2022). Constructivist Approach Analysis on the Boycott of the 2022 Beijing Winter Olympic. WIMAYA, 3(2), 104–110. Retrieved from https://wimaya.upnjatim.ac.id/index.php/wimaya/article/view/97
Section
Research Articles