Ecofeminist Review of Women's Participation in Ecotourism Development Through Social Forest Scheme in The Province of Bangka Belitung
Keywords:
Social Forestry, Ecotourism, Women's Role, Ecofeminism
Abstract
The region of Bangka Belitung Province, in its economic distribution, focuses heavily on the mining and plantation sectors on community forest land belonging to social forestry, which causes much damage to the coastal forest ecosystem due to mining production and has an effect on the decline of the community's economic system due to the unproductive mining land in the area. Even with the dominance of the mining area, women have a very subordinate position. The community's economic welfare is highly dependent on the participation of men. For this reason, the Bangka Belitung regional government has implemented the Social Forestry Program through the Ecotourism scheme to improve some of these problems, prioritizing the concept of gender mainstreaming and involving the role of women in ecotourism management and sustainable economic development. This paper will further analyze the benefits of social forestry schemes for the improvement of environmental ecosystems in the Bangka Belitung region and see the importance of women's participation insupporting efforts to maintain the sustainability of forest resources as well as achieving gender equality in aspects of forest management as well as improving the economy of communities around Bangka Belitung forests from an ecofeminist perspective. This study uses previous research literature studies to strengthen the author's argument in analyzing the issues raised, the author uses the theory of ecofeminism. The resulting conclusion is that women are not only complementary or complementary but also play an essential role as decision-makers and drivers of community economic empowerment. Around the forest, by utilizing the status of social forestry land in the structure of ecotourism utilization and can achieve gender equality in its management.
Downloads
Download data is not yet available.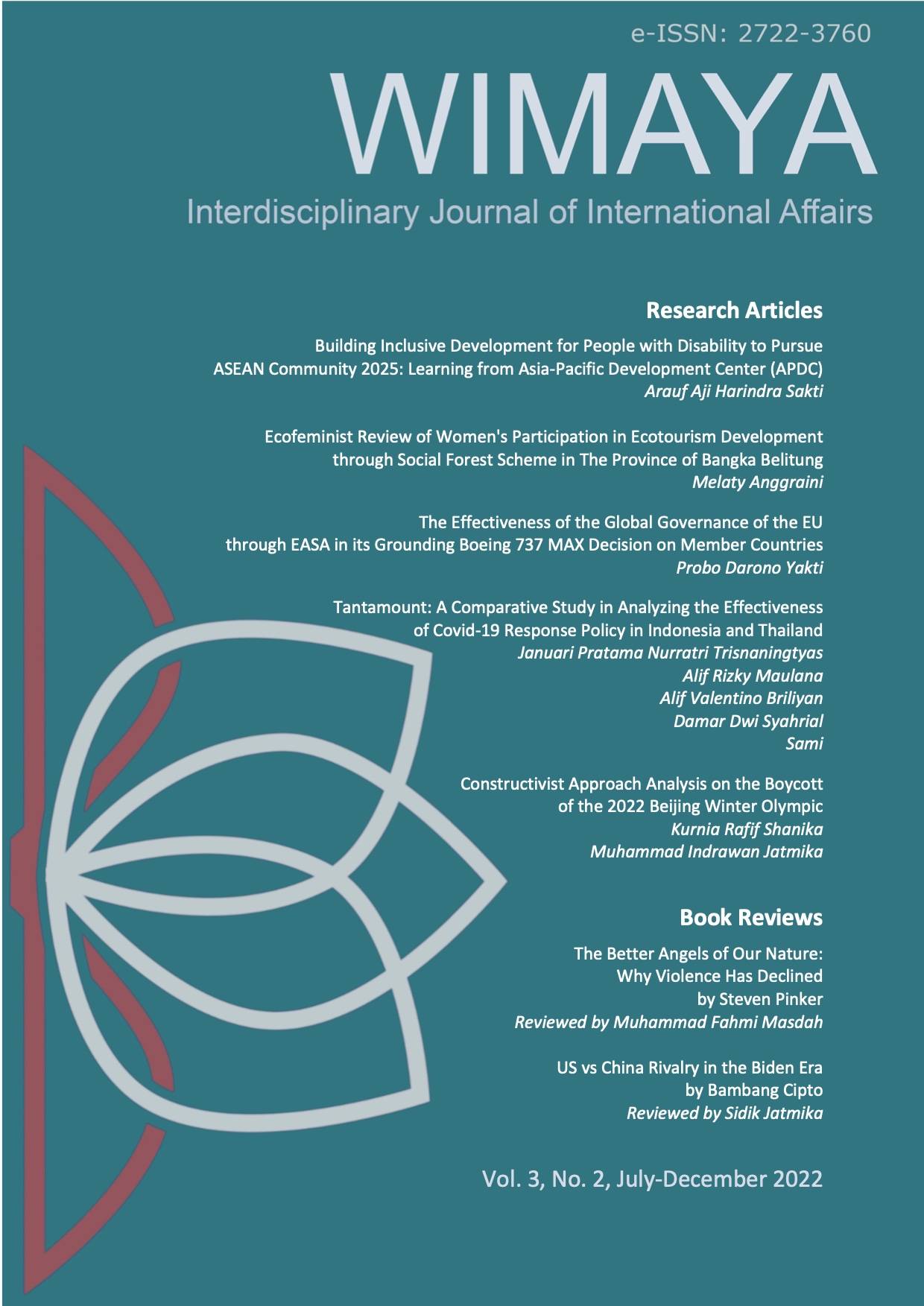 Downloads
How to Cite
Anggraini, M. ., Akbar, H., & Tampubolon, N. . (2022). Ecofeminist Review of Women's Participation in Ecotourism Development Through Social Forest Scheme in The Province of Bangka Belitung. WIMAYA, 3(2), 71–83. Retrieved from https://wimaya.upnjatim.ac.id/index.php/wimaya/article/view/93
Section
Research Articles