Building Inclusive Development for People with Disability in Post-Pandemic Era to Pursue ASEAN Community 2025: Learning from Asia-Pacific Development Center (APDC)
Keywords:
disability, inclusive development, ASEAN, APDC, 60 Plus Project, COVID-19, post-pandemic world
Abstract
This qualitative research conducted with the study case method tries to point out the impact of COVID-19 on the employment condition of disabled-person and what ASEAN might consider adopting from the Asia-Pacific Development Center (APCD) when it faces disability policy development. ASEAN itself has many legal commitment papers to establish an inclusive community, particularly for people with disabilities. COVID-19 has hit multi-sector of development in ASEAN and facing bigger challenges to establish an inclusive environment to achieve ASEAN Community 2025 due to the economic slump and mass unemployment. The study found that the pandemic's negative effect doubled when it hit people with disabilities and required rapid response. ASEAN established the Comprehensive Recovery Framework (ACRF), a set of principle guidelines, to respond to the challenge. However, it lacks procedures on how to implement the principles and guidelines at regional level. ASEAN may learn from Asia-Pacific Development Center for Disability (APCD) program, 60+Plus Project, as policy implementation guidelines for ASEAN Member States.
Downloads
Download data is not yet available.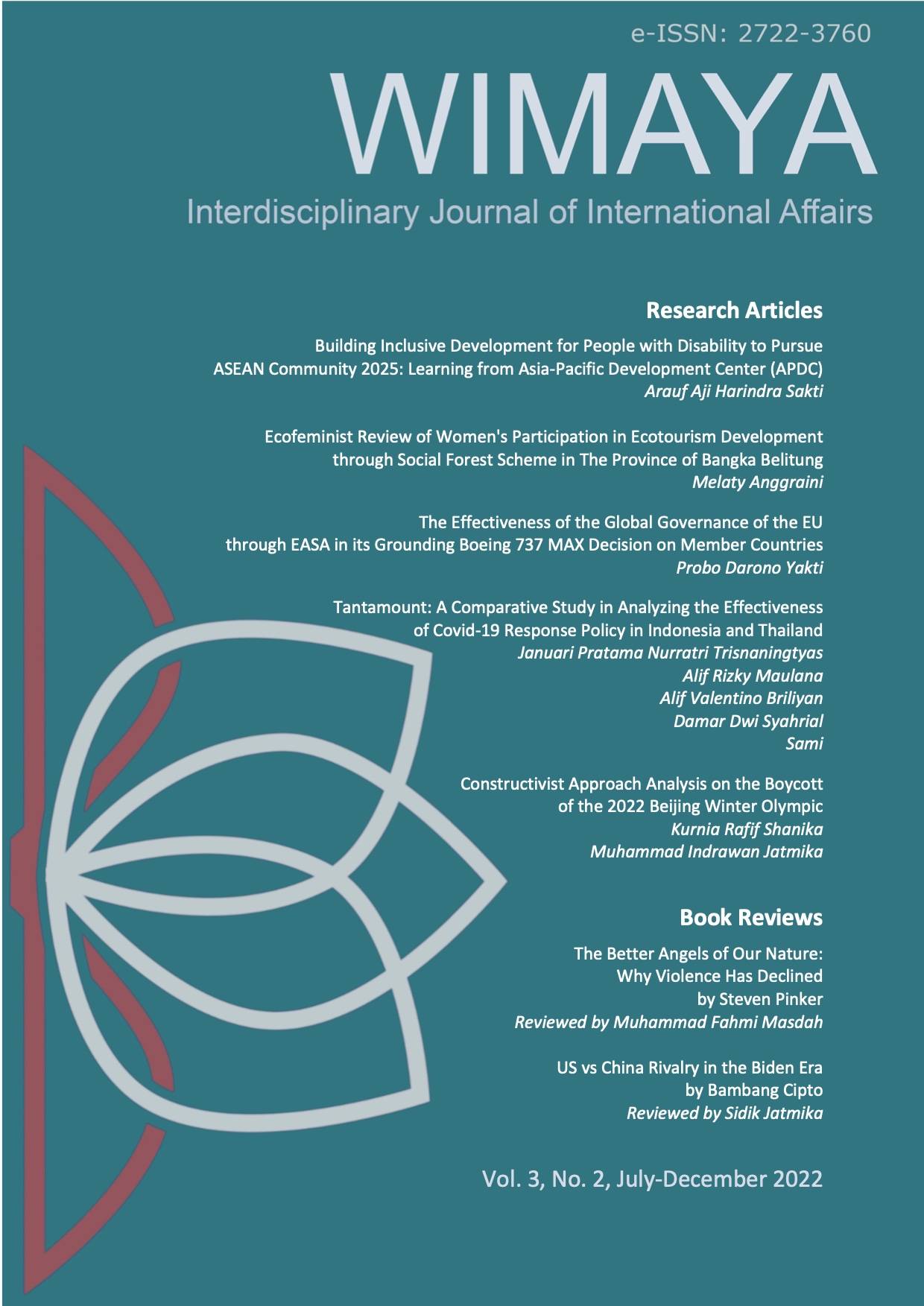 Downloads
How to Cite
Sakti, A. A. H. S. (2023). Building Inclusive Development for People with Disability in Post-Pandemic Era to Pursue ASEAN Community 2025: Learning from Asia-Pacific Development Center (APDC). WIMAYA, 3(2), 62–70. Retrieved from https://wimaya.upnjatim.ac.id/index.php/wimaya/article/view/81
Section
Research Articles